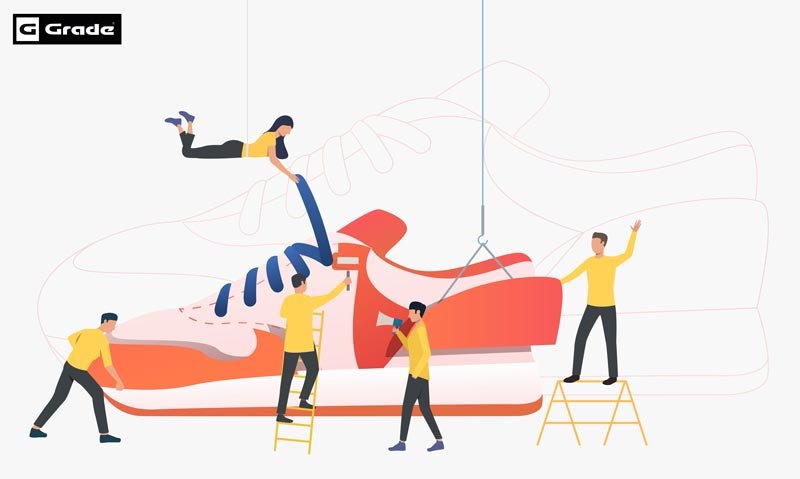 GRADE: Nurse Shoes Manufacturers | Nursing Shoes Wholesale
We at Grade Footwear, are proud to have 40+ experience in manufacturing shoes. 
Based in Jalandhar, we manufacture nurse shoes in Jalandhar. Designed from high quality material, our nursing shoes promises comfortable wearing experience. The offered shoes for nurse are widely appreciated for their comfort, finishing, lightweight and durability.
We specialize in manufacturing white nursing shoes. These are available in white colour, velcro and laces closure and can be made as per the needs of the clients. These are made using best quality PU and PVC materials.
Our Infrastructure:
In our factory, we have installed advanced plants and machineries that are imported from exceptional machine manufacturers from the globe. We have a team of designers who specialize in creating new designs according to clients needs. Plus our workers are well trained and experienced. Our teams constantly develop and upgrade the infrastructure.
Client Satisfaction:
With our latest and upgraded manufacturing processes, we strive to keep our customers happy and satisfied. 
Our USP:
Our USP is that we manufacture cricket shoes which are backed by science, very comfortable and at honest pricing.
Contact Us:
To contact us, call or WhatsApp us at +91 8591088222
What are Nurse Shoes or Nursing shoes?
Nurse shoes or nursing shoes are the footwear worn by nurses when they are on duty. They are usually white in colour. Shoes for nurse come in different closure options such as velcro and laces. Usually, nurses prefer white nursing shoes. 
Are Nursing Shoes Comfortable?
Nurses usually have to work for a very long time, and the shoes which they wear are generally not comfortable. This happens due to more demand and less supply. Nurse shoes manufacturers usually do not use good quality material, which in turn makes the shoes non flexible and uncomfortable. 
Our thinking is a bit different from other manufacturers and suppliers. We are always known for manufacturing comfortable shoes. We want our customers to ask for our nurse shoes again and again. So it is always quality first. 
How Grade Nurse shoes are better?
Our Nurse white shoes are a way different. 
Our design and shoes for nurse manufacturing process are fully technical and automated.
They come with heel and arch support so that they are comfortable to walk in. 
They are extremely flexible and non slippery.
On demand, we can provide Memory Foam cushioning in these shoes. 
Our nurse shoes are not made from cheap synthetic materials. Such materials trap het in the shoes and make them unpleasant to wear them.
The foot are completely covered, so that nothing spills on the foot.